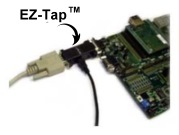 Stratus Engineering是工程設計服務公司,專門從事電子產品和軟件嵌入式系統。提供的產品EZ-Tap™ 和 EZ-Tap Pro™ 是用於監測與記錄RS232通訊埠數據,最經濟又簡潔的方案

• Easy-to-use inline passive RS232 connection
• NO bulky cabling
• Standard DB9 connector pinout
• Camera-style "mini-B" connector
• USB access from MS Windows host computer
• Driver software for MS Windows 2000/XP/Vista/7
• FREE data monitoring application software
EZ-Tap™

RS-232 Passive Tap Module
Stratus Engineering's EZ-Tap hardware module is a low-cost hardware solution that uses a traditional dual COM port approach to RS232 interface monitoring.
EZ-Tap is fully compatible with Stratus Engineering's FREE EZ-View monitoring software as well as most 3rd-party dual COM port/ serial port monitoring programs and eliminates bulky cabling typically associated with these solutions.
Baud rates up to 230400*
Purchase EZ-Tap™ Now!*For baud rates above 9600,
we recommend EZ-Tap Pro™ - below.
EZ-Tap Pro™

RS-232 Passive Tap Module
Stratus Engineering's EZ-Tap Pro hardware module RS232 sniffer is a sophisticated hardware solution that overcomes latency and time-tagging problems associated with traditional dual COM port monitoring solutions.
EZ-Tap Pro features state-of-the art electronics that provides extended functionality:
Exact hardware microsecond time tagging of all RS232 data and handshaking events
Captures and time tags state changes on all 6 RS-232 handshaking lines
Supports baud rates up to 921600 bps
Supports 3.3V/5V TTL and RS232 voltage levels
EZ-Tap Pro offers these capabilities at a fraction of the cost of the nearest competitor and is available in the same small, convenient mechanical form factor as the original EZ-Tap module.
EZ-Tap Features
• Low-cost solution eliminates bulky cabling associated with other hardware-based RS232 monitoring schemes. In many cases an EZ-Tap™ purchase pays for itself in saved cabling costs alone.
• Supports standard and non-standard baud rates as high as 921600 bits/sec
• Includes PC-compatible device drivers, 6ft "Mini-B" USB cable, and EZ-View™ RS232 monitor program*, which interfaces directly to EZ-Tap™ hardware for low latency USB access
• DLL-based WIndows API with low-level time-tagging available for custom application development
• Serial Port Monitor is completely compatible with Windows Vista/7 (both x32 and x 64)
• Multiple serial ports can be monitored simultaneously
• Data transmission monitoring and logging
• Real-time data capturing
• Single and multiple byte as well as terminal views
• Any software / hardware that works with a serial port can be monitored
• Data logging to memory or file
• Full duplex mode supported
• All baud rates supported
• Flexible configuration: stopbits, flow control, parity control, data bits, highlighting, etc.
• User-friendly flexible interface: the software is designed to provide easy access to serial ports, no programming skills are required
• RS232 Monitoring FREE Software

Operating system:
Windows 10, Windows 8, Windows 7
Additional requirements:
» Minimum one COM port available. Two COM ports for monitoring communication between two serial devices
» For RS232 monitoring using Docklight Tap or Docklight Tap Pro: one USB port
» For Docklight Scripting TCP or UDP applications: one network / ethernet interface
Additional cables may be required for connecting the equipment to be tested. See the appendix of the Docklight User Manual for a description of these cables.
Windows Drivers
The latest windows drivers for our products can be found on the drivers page at our USB IC manufacturer's website
In many cases Windows will automatically find and install the latest drivers when our device is first plugged into your computer. In other cases you should download the drivers to your computer and direct Windows Device Manager to install them.
You can also use the manufacturers "setup.exe" installation file to install the drive before plugging in the device.
This method should be used before running our EZ-View application in "Demo Mode" in the case that you have not yet purchased one of our products.

Versa-Tap™ HDLC
RS-232 / RS-422 / RS-485 Passive Tap Module

Stratus Engineering's Versa-Tap™ module is a powerful hardware solution that features state-of-the art electronics and provides exceptional data-logging/analyzer capabilities:

Easy-to-use screw-terminal communication interface connection
NO bulky cabling
USB access from MS Windows host computer
Support for Synchronous HDLC analysis
Driver software for MS Windows 2000/XP/Vista/7
FREE data monitoring application software
Captures and time tags state changes
on all 6 RS-232 handshaking lines
Exact hardware microsecond time tagging
of all data transfers and handshaking events
Money-Back guarantee - 30 day

Versa-Tap™ offers these capabilities at a fraction of the cost of the nearest competitor and is available in a convenient small and lightweight package.
Purchase Versa-Tap™ Now!


Versa-Tap™