本公司皆販售最新版本,目前版本僅供參考
最新版 QuickBuild 7.0.6 更新於 2017/2/18
新產品 GitPlex 1.0-EAP-build29 更新於 2017/2/23
QuickBuild 是一個持續集成和發布的管理服務器,作為中央對地方生產、測試、部署和發布軟體。
它的目的是保持專案的完整性,防止或中斷具有破壞性的建構,QuickBuild可以透過問題解決和相關供應鏈管理變化(SCM changes)等相關訊息連接,建立一個訂定的管道去改善傳送可能會發生的問題(for example, dev->QA->release)。
選擇 QuickBuild 的好處:
確保你的專案正確無誤。開發者可以持續整合,同時中斷那些未通過提交的的改變,如果為成功通過提交的改變,建構服務器會自動通知開發者,這些處理過程可以降低錯誤產生。

當您同時執行許多專案時,擁有救回、復原(Life-saver)的功能。QuickBuild使用階層的架構組織專案,使用繼承的概念讓您可以重複使用架構,讓您在建造多個專案時,能夠更為便利。

可以收集分析一些重要的數據,當你在建構專案時,QuickBuild可以蒐集各式各樣的數據,同時產生統計報告。這些重要的資訊可以提供您防止錯誤的資訊,例如:找出哪一些測試特別容易失敗、哪一些測試花最多的時間、哪一些檔案最容易通過提交、哪一個使用戶最容易失誤等等。
可定義彈性的工作流程。QuickBuild的執行過程中,建構流程被視為一個經常性的工作步驟,把這些步驟整理過後,可以套用在一個依照順序的建構,或多個同時執行的建構上,例如:您可能同時必須和兩個不同的agents做產出確認與測試的動作,以及後續應該執行的動作:測試、生產、包裝等。

QuickBuild可以製作生命週期管理和整合各事件的觀點與改變。他可以管理建構專案中的各個製作過程,包括持續整合、日常建設、QA等,同時自動追蹤相關事件與變化。使各個不同階層的建構可以整合為一,並且維護此創建過程的流暢度。
Pre-commit Test and Continuous Integration
Run proof build to test changes on server before commit or push.

Run builds concurrently to get fast feedback.

Run builds upon commit, use a schedule, or upon dependency finish.

Report build progress and log in real time.

Monitor/trigger build and receive build notifications through tray monitor without opening browser.

Send failure notifications to committed users to ensure responsibility.

Comparable and customizable statistics chart of key performance indicators.

Build auto cleanup strategy to reduce disk space usage.
Build Pipeline and Continuous Deployment
Push commits to different build and deployment stages via pipeline.

Be able to mark a good build as recommended to make it stand out of other builds.

Flexible build promotions to implement user defined actions such as release, deploy, etc.

Keep track of each deployment in form of deployment builds, and can roll back to any previous deployment.

Compare different QA builds, release builds or deployment builds to get source changes.

Access build artifacts and project documents.
Deep Integration with Various SCM Systems
Flexible checkout strategy, either from server, or from agents.

View/diff build changes by commits or files.

Quiet period support to reduce the risk of triggering build against partial work.

Exclude certain directories/files when detect changes from SCM.

Optionally label source code as part of build workflow.

User and file activities in SCM.

Supported SCM systems: Subversion, CVS, Perforce, ClearCase, StarTeam, Visual SourceSafe, Accurev, Git, Mercurial, Bazaar, Team Foundation Server, and Google Repo.
Tight Integration with Major Issue Trackers
Transform issue keys in SCM commit messages into issue links.

An issue panel to display all resolved and related issues of a build.

Create/assign issues under certain conditions during build.

Manage build versions either at issue tracker side, or at QuickBuild side.

Update issue status based on issue commands in SCM commit messages.

Update relevant issue fields to reflect fixed build.

View related SCM changes and builds for selected issues or projects at issue tracker side.

Currently supports JIRA, Trac, Bugzilla, CollabNet TeamForge, and Redmine.
Advanced Build Grid and Cloud Integration
Scale to support massive builds simply by adding more nodes.

Run steps of a single build parallelly on multiple nodes to accelerate build speed.

Flexible node selection mechanism to enable build step running on one or more compatible nodes, with load balancing.

Resource management to reflect capability of the grid.

Partition the grid between different departments/projects.

Optionally store artifacts on agents to reduce server load.

Launch node into cloud environment including Amazon EC2 on demand.

Key performance indicators to keep track of server and grid health.

Auto-update agents when server is upgraded.
Instant Test Insight and Statistics
Test results at a glance in build overview page.

Access details of failed tests, with the ability to find out who broke the tests.

Analyze and group test results by packages, test suites, namespaces, and more...

Statistics of the test results

Analyze history data of test results to know which tests failed often, which tests spent more time, and more.

Native support for mainstream unit tools including JUnit, TestNG, NUnit, MBUnit, MSTest, Boottest, together with a XUnit format to support any other unit test frameworks with minimum effort.
In-depth Code Quality Reporting and Trending
Native support for mainstream code inspection and coverage tools, including checkstyle, findbugs, emma, pmd, and cobertura.

Code quality at a glance in build overview page.

Analyze the inspection, coverage results to find code problems quickly and easily.

Display source code in QuickBuild with detected problems marked.

Generate statistics chart for inspection/coverage results.

Analyze history data of inspection/coverage results to know which files/classes causing most of the problems.
Powerful Build Setup and Workflow Design
Organize projects hierarchically for easy management and navigation.

Reuse build workflows between projects through inheritance and achieve workflow diversity by using variables.

Design complex build workflow visually, with drag and drop support.

Repeat execution of steps, either sequentially or parallelly.

Flexible version strategy for QA and release builds.

Transitive build dependency support and artifacts resolving.

Parameterized manual build with customizable option screen.
Customizable User Dashboards
Select layout and add gadgets to organize build information.

Edit and copy existing dashboard.

Share dashboards to groups or specified users.

Public dashboard for anonymous users.
Metrics Aggregation from Bottom to Top
Aggregate build metrics from child projects/modules to get an instant overview.

Generate aggregation statistics to display metric aggregation trends overtime.
Flexible Build Notification and System Alert
Subscribe to interesting configurations to get build notifications.

Forcibly send build notifications to group of users.

Customizable build notify conditions and message templates.

Generate system alerts under specified contions and notify relevant users.

Support to notify through: RSS, Email, MSN Messenger, Google Talk, Jabber, and the cross-platform tray monitor.
Security and Fine Grained Access Control
SSL support and IP address binding.

Role based security and per-project access control.

Optional anonymous access and user self-registering.

LDAP and Active Directory integration.

Audit of user activities.
Support Different Kinds of Build Tools
Apache Ant

Apache Maven

MSBuild

Visual Studio solution and project builder

NAnt (used to build .NET projects)

Rake (used to build Ruby projects)

Any other command line based build tools.
Extensible via Plugins and RESTful API
QuickBuild can be extended to support new SCM systems, issue trackers, steps, reports, statistics, notifiers and authentication systems with custom plugins.

External system can operate QuickBuild programmatically via the RESTful API.
Supported operating systems
Windows 2000/XP/Vista/7, Windows server 2003/2008, 32 bit and 64 bit, x86 and IA architecture

Linux, 32 bit and 64 bit, x86, PowerPC and S/390 architecture

Mac OS X, 32 bit and 64 bit

Solaris, 32 bit and 64 bit, Sparc and x86 architecture

AIX, 32 bit and 64 bit, PowerPC architecture

HP-UX, 32 bit and 64 bit, IA and PARISC architecture

FreeBSD, 32 bit and 64 bit, x86 architecture
Memory requirement
512M minimum, 1G recommended
QuickBuld的授權:
Community License
With the free community license, you may use up to 16 configurations without any other restrictions. The community license is already contained in the download package automatically.
You can always upgrade to enterprise site license any time when you run out of the configurations.
Enterprise Site License
Enterprise site license is licensed on a per-site basis, that is, a single enterprise site license allows you to install QuickBuild on unlimited number of physical servers, and no limits set on number of concurrent user accounts, build agents, or build configurations as long as you keep them on the same physical site!
程式截圖
Permission set definition
Often you might find yourself in a situation where the same set of permissions need to be assigned to different groups and configurations again and again. The permission set feature comes to rescue: it lets you select a set of permissions and give it a name, then you can assign that permission set as a whole to configurations just as other individual permissions. After the permission set has been defined, you can then assign it to corresponding configurations when define authorizations of the group.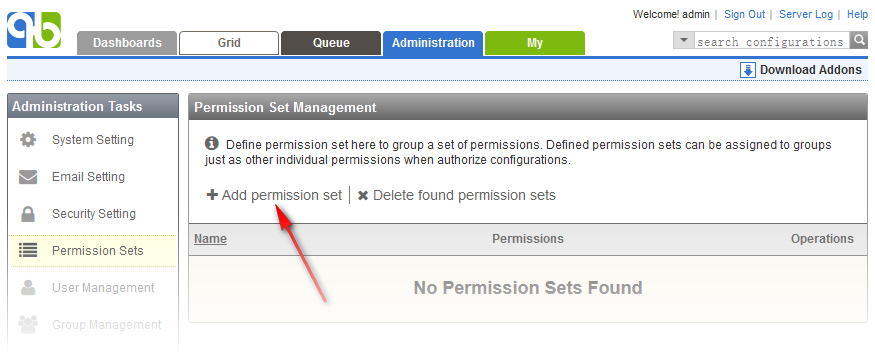 Run as arbitrary user by administrators

Step live log

Gerrit integration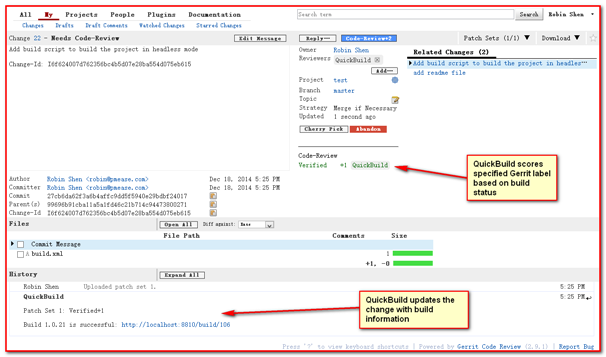 JFrog Artifactory integration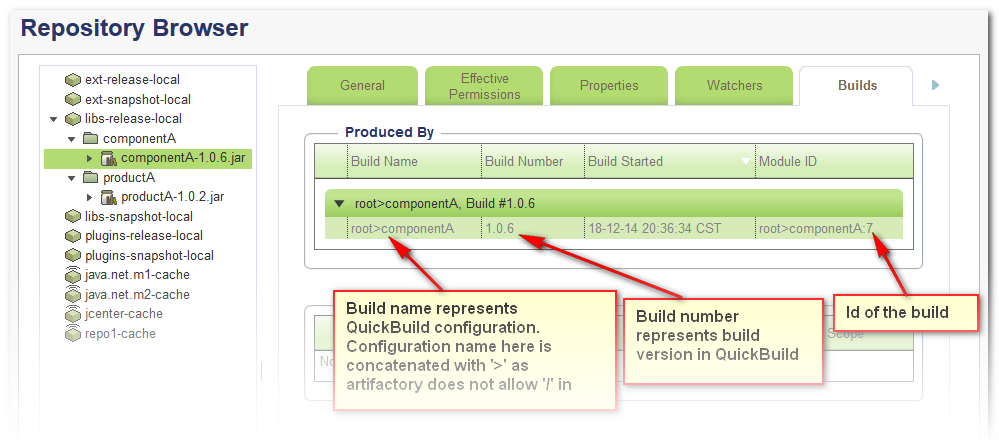 GitPlex 新產品推出 一款具有Code review功能的管理伺服器工具
Git repository management server understanding your code. Free for small teams.
COMMIT SEARCH WITH HINTS AND AUTO-COMPLETION
Git log is powerful but not easy to use. GitPlex mimics git log in web interface, with hints and auto-completes available to help user quickly constructing desired commit queries.