本公司皆販售最新版本,目前版本僅供參考
最新版 SIMAHPP / WaterSys / VINMOD for water quality / SIMAHPP 4 Professional 更新於 2017
SIMAHPP for Hydropower 環境參數水電分析工具
SIMAHPP是一款針對水力,成本預算和環境參數的水電專案分析和能源模擬的Windows軟體工具。提供能源生產,經濟上成本分析,環境影響,設備和材料選擇的詳細分析和結果。自2009年發布以來,SIMAHPP軟體產品已經在歐洲,北美和拉丁美洲,非洲,亞洲和澳洲等30多個國家廣泛應用。
SIMAHPP5用於多站點模擬(multi-site simulation),以確定工作流程設計流暢並選擇適當的水輪機,優化營運時間,以最大限度地提高年度能源生產,確定能源收入,估算投資和維護成本,確定攤銷率,淨現值(Net Present Value, NPV),內部收益率(Internal Rate of Return, IRR),回收期。 SIMAHPP5考慮各種環境影響因素,例如通過減少碳排放或其他環境風險在價值產生方面。 SIMAHPP 5具有靈活的分析功能,具有渦輪效率編輯器和報表生成製作的特色功能。
---
SIMAHPP 5 特色:
Single-purpose (only hydro scheme) or multi-purpose scheme (hydro + options for water supply, irrigation, and other water needs)

Multi-year data record and analysis (40+ years data per scheme)

Options for additional financial benefits (such as from irrigation, flood protection, water supply, navigation, fisheries, carbon sales, recreation)

Options for environmental impact evaluation (such as population displacement, wildlife, aquatic loses, forest loses and other land changes and integration of environmental action plans, etc

Data options for weekly and hourly mean, in addition to daily, monthly and annual mean

Options to use head losses using Darcy-Weisbach, Manning, Hazen-Williams

Efficient algorithm for appropriate turbine selection and computation of corresponding specific speeds, penstock diameter, static pressure

A wide range of units for input and output parameters (SI, US/UK systems)

Long list of penstock materials with the corresponding roughness properties

Sophisticated data visualization for both input and output data (multi-year, multi-site, multi-parameter).

Reverse vertex analysis, multi-scaling, multi-line, zoom, export, and many…

Sensitivity analysis & sensitivity index (SI) visualization

Summarize and generate simulation report

Project characteristics, classified as Energy Production, Economic Analysis, Environmental Impacts, Equipment & Materials

Site location map

Net Framework

A summary of project simulation output per project site is as follows:
Details of project simulation results per site are as follows:
Energy Production: analysis on the energy production capacity of the hydropower scheme provides with results on
Net head using three head loss methods

Design flow from FDC (Flow-Duration Curve),

Design time of operation for maximizing energy

Optimum power capacity

Maximum energy production
Economic Analysis: analysis on the financial feasibility the hydropower scheme provides with results on
Energy sales revenue,

Carbon market revenue,

Additional revenues in case multi-purpose from domestic water supply, irrigation water, flood control, navigation, recreation, fisheries,

Investment cost,

Investment cost/kW,

Investment cost/kWh,

O&M cost, net present value (NPV),

Internal rate of return (IRR),

Payback period,

Amortization plan
Environmental Impact and Management Plan: analysis on environmental impact and the management plan of the hydropower scheme provides with results on
Emission reduction,

Population displacement,

Wildlife migration,

Aquatic habitat losses,

Forest clearance,

Land use change,

Resettlement program,

Watershed management,

Tree planting,

Public awareness program
Equipment and Materials: analysis on the system characteristics results in the type of equipment and material
Turbine type,

Specific speed,

Penstock size

Penstock material
---
SIMAHPP5 販售多個版本,包括 Standard 標準版、Professional 專業版 及 Enterprise 企業版
Multi-site, multi-purpose hydro system
Up to 5 sites or project scenarios can be simulated in a single run. Here, users can select the number of project sites, flow data type, length of data record in years, type of scheme if single or multi-purpose, and estimated length of the penstock. Further more, users can select head loss methods, penstock materials, and measurement units for the simulation.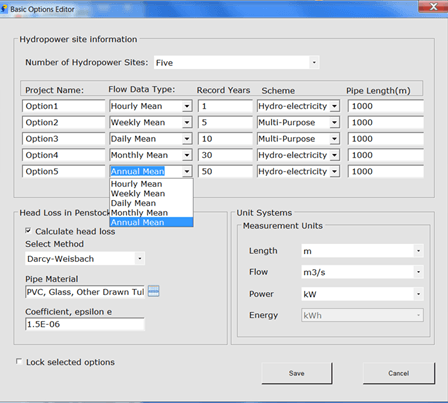 Competing water users (in case of multipurpose hydro system) or single purpose (hydropower only) hydro scheme
SIMAHPP is provided with flow and head data editors for up to 5 project sites or scenario. If the specific site is used for multi-purpose use, the net flow for the hydropower project will be taken into consideration for the energy simulation. In this case, additional benetits of the scheme will be valuated based on the volume of water for individual uses.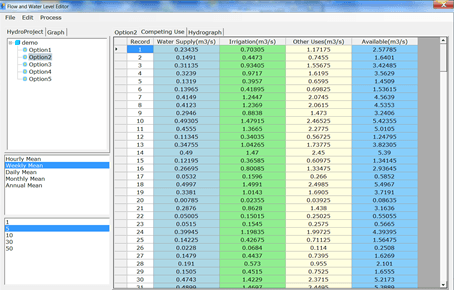 One or more projects flow hydrograph
SIMAHPP generates hydrographs for the flow and the head. It has sophisticated and rich visualization and export features
Determine design flow and the maximum energy
Using the Reverse Axis functionality, numerous analyses can be done. For instance, by comparing design flow against energy, one can easily see the flow that provides maximum energy. One or more simulation variants can also be compared by clicking on the desired check box on the left side of the plotter.
Effective water resources planning and management depends on the ability to illustrate and build water resources balance with respect to the various water sources (surface water, groundwater, recycled water) and uses (domestic, agricultural, industrial, energy) in a given spatial and temporal context of a river basin. The various sources, uses, and operational functions make up a water system with which basin administrators and decision makers can evaluate, tailor-made, and plan for multipurpose uses of water by taking into account changes to demand and supply due to factors related to climate changes, demographic, economic development, living standards and styles. However, with multiple sources (surface water, groundwater, recycled water) and competing uses of water (domestic, agriculture, industry, energy) under multiple factors (population growth, change in life style, climate change, economic activities), the planning process becomes complicated and limits the effectiveness of the decision for sustainable use and management of water resources.

Solution
A decision framework and tool with innovative technology to plan inclusively, develop water resources economically, allocate water optimally among competing users, and manage water resources sustainable by taking into account the dynamics of population growth, climate change and economic activities. Provide a quantitative assessment and analysis of water resources demand and supply in a dynamic (time varied) situation at local, national, and trans-boundary levels.
---
優勢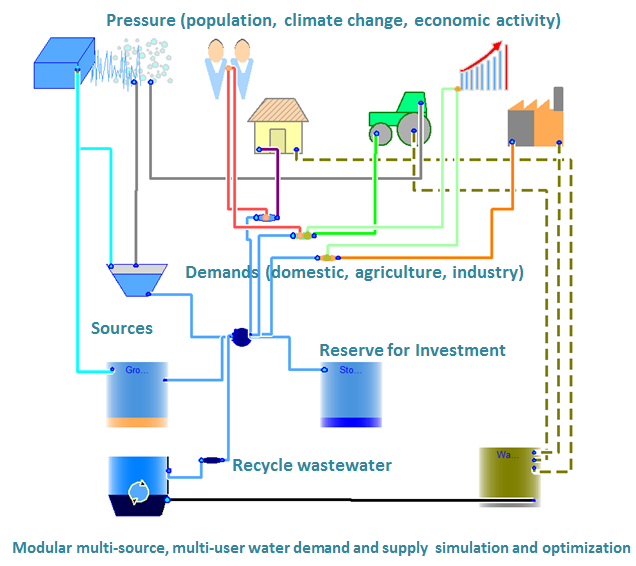 水資源政策擬定與實施重要參考

競爭用戶水資源優化配置

經濟投資資源分配

降低系統擴展的規劃和管理的成本和時間

整合智慧技術應用於自動配水和分配
(感應器,設備)的系統
Applications
Planning of water demand and supply with one or more sources and competing users, taking into account the dynamics of population growth, climate change and economic activities

Analyze quantitatively existing and future water demands and supply

Analyze water footprint of natural and/or industrial systems

Indicate decision measures on new water allocations and investments

Design and specify water needs and water extractions

Supervise and monitor development of infrastructures for water storage, delivery, and use (irrigation, domestic, industrial, ..)
Assistance
System schematics (prototyping)

Physical Model (consisting of modular units)

Develop mathematical model (one or more), which is open to the eyes of the users

Define model parameters and variables, set of equations governing the model and build system model

Test and simulate, customize and reuse the model for different situations and predictions
VINMOD for water quality 地下水廢水分析軟體
Groundwater is a major source of water supply for domestic and industrial uses in many urban industrial areas. However, with ever-growing human activities such as industrialization and agriculture, this precious water resource is threatened by effluents from industrial areas as well as accidental spills and leaks. Among others, chlorinated solvents are toxic chemicals that are known to be the most common groundwater contaminants of industrial origin. Exposure to these chemicals may cause serious health problems to humans and the natural environment.
If groundwater is polluted, source control is an effective solution to stop further spread. But identifying sources can be time consuming and costly operation, especially when there is no enough information about the source of contamination.
Solution
We provide our clients with innovative approach that determines the relative position of high risk zone and the total mass flow of the contaminant without searching for sources and installing several monitoring wells.
With our approach
There is no source investigation

Implement less expensive operation

Provide targeted solution
Applications
Groundwater monitoring, management

Protect production wells, aquatic environment

Health / environmental risk studies

Remediation design if found appropriate
Assistance
Data review and analysis

Health risk assessment

Identify remediation options if found appropriate

Report writing

Training
SIMAHPP 4 Editions 環境分析模擬軟體
SIMAHPP®4是一款 Windows 的模擬軟體工具,用於評估水電專案的可行性。 最初設計主要用於模擬高達10 MW 的小型水電系統,但現在利用新加入的財務模組,它可以模擬容量超過10 MW 的較大型水電系統。SIMAHPP 4軟體提供使用者對各種專案不同情況和可能性的輸入所有的參數進行模擬,並可藉由各式各樣的分析功能和圖形視覺呈現方式簡易查看模擬結果。軟體主要有五大部分:進階檔案文件管理,專案選項,液壓(hydraulic),財務模組和環境模組(modules),以及模擬器(Simulator)。
SIMAHPP 4 是一個多站點模擬(multi-site simulation)、多選項模擬軟體(multi-option simulator),目的為解決能源工作流程設計中的問題,以確保工作流程設計流暢並能選擇出適當的水輪機(hydro turbine),優化營運時間,以最大限度地提高年度能源生產,確定能源收入,估算投資和維護成本,確定攤銷率,淨現值(Net Present Value, NPV),內部收益率(Internal Rate of Return, IRR),回收期,以及推斷水電專案運行時碳減排潛力的數量。 SIMAHPP 4 Professional 專業版提供了非常多靈活的模擬選項,並整合新的模組進行靈敏度分析。
SIMAHPP 4.8, i.e. SIMAHPP4 series, integrates variable turbine efficiency editor, with which users can enter desired turbine efficiency for each flow. Modified values can be saved and automatically accessed by the program as another simulation run is executed. At any time, the user can switch to fixed turbine values by checking the 'Constant Efficiency' checkbox. If this box is checked, the program sets all efficiency values to a fixed value that can be changed in the Turbine Efficiency combo box. Thus, SIMAHPP v4.8 provides users with two options in terms of turbine efficiency: variable or fixed turbine efficiency values throughout the flow records.

Outputs are detailed project characterisitics and result analysis (both tabular and graphical) basd on three key parameters: hydraulic, financial, and environmental parameters. The sensitivity analysis module helps to further customize project characterisitcs information to the desired range of key parameters and investment costs.
---

功能和關鍵特色
SIMAHPP graphical interface has the following key features:

Simulate small and large hydropower systems

Simulate single to multi-site hydropower systems

Multi-criteria project evaluation: hydraulic evaluation, financial evaluation, and environmental evaluation

Conduct sensitivity analysis (New)

Enhanced financial module for flexible investment cost simulation

Multi-flow data editor

Variable head- and tailwater elevations editor

Variable Turbine Efficiency Editor

Wide range of turbine efficiency selections

Wide range of project service life selections

More than 140 currency options and user defined exchange rate

Easy to use graphical interface

Save, Preview and print results

Format option for graph types, colors

Advanced file manager for ease placement and retrieval of files

Import older versions of SIMAHPP, i.e SIMAHPP v2xx and above

File backup option while importing older project file

Create SIMAHPP Project Exchange file (*.SPX)

Convert *.SPX to the SIMAHPP Project Root file *.SPR

Easy to use parameter editors

Online Help Contents and User's Guide

Technical support through our Support Desk

Interface background color preference

Quick guide dialog launch option
Financial evaluation
With SIMAHPP 4 Professional, users can determine the feasibility of the project based on the simulation results such as:
Investment costs

Net Present Value (NPV)

Internal Rate of Return (IRR)

Amortization plan on yearly or monthly basis

Payback period

Investment costs per system capacity

Carbon market revenue, etc.
Hydraulic evaluation
On the technical aspect, SIMAHPP 4 calculates:
Design flow

Power for a wide range of system efficiency

Maximized energy production using optimized system operation period

Appropriate turbine type for the simulated hydropower system
Environmental evaluation
From the environmental point of view, SIMAHPP 4 calculates the carbon emission reduction potential of the project based of user's specific situations and conversion parameters.

Simulation results
SIMAHPP provides detailed simulation results to evaluate the feasibility of a hydropower project:
Presentation of project characteristics tables and more results

Presentation of more than 40 graphical outputs

Calculate design flow (Qd),

Calculate optimum time of use per year (%Td) to maximize power production,

Calculate power production,

Calculate energy Production as per Td,

Calculate energy revenue,

Calculate or simulate investment costs,

Calculate costs per capacity (kw, kwh),

Calculate Operation & Maintenance Costs,

Calculate amortization rate on yearly and monthly basis,

Calculate net present value (NPV),

Calculate internal rate of return (IRR),

Calculate payback period,

Calculate carbon emission reduction,

Calculate carbon market revenue,

Suggeste appropriate turbine type,
Graphical outputs
Plot flow hydrographs,

Plot flow-duration curve (FDC),

Plot head- and tailwater elevations,

Plot power-duration curve,

Plot energy production curves,

Plot design flow and % optimum time of operation per year

Plot total power / Energy production comparison

Plot investment costs, costs per capacity comparison

Plot payback period and amortization rate comparison

Plot carbon emission reduction comparison

Plot NPV and IRR comparisons,
SIMAHPP Users
SIMAHPP is used by private and public companies as well as independent consultants from several countries. It continues to be a useful tool in various structures of the hydropower industry:
Consulting firms

Independent consultants and project managers

Educational institutions

Research institutions

Government offices

Turbine manufacturers
System compatibility
Windows 7, Vista, XP, Server 2003, 2000, 98, 95