Blindwrite
備份
輕輕一點即可備份和燒錄您的遊戲、CD、DVD 或藍光光碟中的內容到您的硬碟或另一片空白的 CD、DVD 或藍光光碟中。BlindWrite 能夠精確複製來源媒體的所有特性到您的硬碟或空白光碟中。因此,這是最佳的工具,可協助您保護您的數位內容避免受到兒童損害或頻繁使用造成刮傷。

自訂選項
從各種不同的定義檔中選擇適合的類型並進行備份:自動、音樂 CD、混合、音樂+資料、壞軌 (自動標記錯誤磁區)、ISO 映像檔、NoSplit、Nibble。
定義預設的讀寫速度,藉由背景執行的 AnyDVD 協助您建立 1:1 完整電影備份以及私人的 CD、DVD 與藍光光碟備份。
*Blindwrite 不支援轉檔或檔案壓縮。

支援格式
Blindwrite 支援多種格式,包含:CloneCD (.CCD)、Iso 映像檔 (.ISO)、Cuesheet/Binary (.CUE/.BIN)、Alcohol (.MDS)。
*不支援 Wii、Xbox 以及 Playstation (視硬體配置) 的遊戲。
*CD、DVD 或藍光備份可直接從您的電腦執行而不用虛擬光碟軟體 (例如:Daemon Tools) !
---
系統需求
硬體
Intel Pentium III / AMD Athlon 處理器(Intel Pentium 4 / AMD Athlon XP 或同等級 處理器)

512 MB 記憶體 & Windows XP

1 GB 記憶體 & Windows Vista

硬碟可用空間至少 4.3 GB

DVD 燒錄器

作業系統
Windows 8/7/Vista/XP - 32 & 64 bit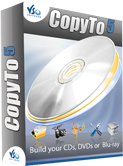 CopyTo
只要點兩下,就能夠完美複製你的影片。並保留原始影音和字幕等。不論你是門外漢或專業人士都很適合。
符合你所有的燒錄需求
簡單易用,只需點一下滑鼠就能燒錄完成

燒錄audio / video / data / iso檔案

適用於所有設備和光碟

在家也可以燒錄dvd和藍光影音

複製DVD或任何光碟拷貝

集成Windows Shell

Light burning alternative to heavy intrusive burning suites
Intuitive and idiot proof software
A smart project analyzer suggests the best output format

Easy file selection: see which files have been added and how much space is left on disk.

Hints and tips guide you for a 100% successful burn

Depending on the contents of the project, a mini media player is added to the disk for easy playback

Integrated voice notifications let you know what is happening

Customizable interface with quick acces buttons with your favorites tasks
Burn your music
Create mp3 cd or any mp3 disk, MP3 to CD

- Automatic mp3 conversion from any audio or video format, extracts audio from any file: web video clips, live concerts, ect.

Burn audio cd, ultra compatible with many devices

Make your own playlists

Convert videos to mp3 files



Create ISO
Create disk images

ISO and BIN/CUE supported

Virtual drives supported like daemon tools

Create and modify ISO files (Perfect ISO patcher)
Multi-session support
Create multi-session disks

Multi session disk wizard: manage content easily

Interface displays existing sessions already burnt on the disk

Customize multisession rules with your preferences

Latest technology
Award winning burning engine

Plan and schedule your customized or regular backups

Control burn speed, burn to dvd all you want safely

Supports Unicode/ISO/Joliet/UDF 2.5 (unicode) file systems

Burn multiple copies at the same time

Scan disk after successful burn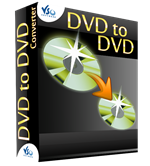 DVD to DVD
拷貝任何你想要的光碟。複製下列資料到DVD (或CD、Blu-ray):文件、文件夾、圖片、音樂和DVD影片檔。創建iso檔、mp3 CD、影音等。非常適合初學者使用。
Rip DVDs
Copy DVD to DVD

Multiple audio + subtitles tracks supported

Video player integrated for easy audio and subtitle track selection

Supports ISO images as input files

Import original chapters or create your own

Rip DVD to harddrive

Copy DVD to various formats

Forced subtitles supported

100% quality copy, no quality loss
Fast copy process
Quality helper guides you for your custom settings to get the best quality

Live preview

Uses Advanced Image Filter for best image quality

Optimized for multi-core processors meaning you get even faster conversions

Use Hardware encoding NVIDIA CUDA convert 3x's faster

DXVA2 hardware decoding: NVIDIA CUDA, Intel, ATI technology

2 pass encoding for enhanced quality

Padding and cropping options

Multiple simultaneous conversions possible

1 Click Copy
Copy main movie or episodes

Copy Bonus

Files displayed in a clear straightforward manner

Convert to other formats too: AVI, MKV, MP4, Xbox and for iPad
Copies play on any DVD player
Play DVD on any living room DVD player

Create PAL and NTSC Disks

Create Menus

Full screen or widescreen

Copy DVDs to single or double layer disks

Burning engine included
支援格式
Output format
Input format

Video:

DVD disc from optical drive

DVD Folder from hard drive

DVD ISO image file

Output format


Video
Audio
Subtitle
DVD
- Mpeg2 video
- PAL / NTSC
- 4:3 / 16:9

Creates DVD compliant structure:
Audio_TS folder (always empty)
Video_TS folders (with BUP, IFO, VOB files)

- Mpeg2 audio
- Stereo
- Multi-channel AC-3 or dts

- DVDsub (activate in menu or with remote control)
- Forced subtitles supported

Disks*:

DVD +/- R

DVD +/- RW

DVD +/- DL




*DVD Converter includes a burning engine and can burn to any type of DVD. Recommended quality brands are Sony, Verbatim, Taiyo Yuden.
ConvertXtoDVD - AVI to DVD(點左圖可連結到產品頁)

Convert and burn your internet movie files to DVD and play them anywhere. ConvertX does fast conversions, burns automatically to DVD, creates DVD menus, and gives you excellent quality results! Convert all your videos and subtitles too: AVI, MKV, MTS, WMV, etc.

DVD Converter - Convert your DVDs to any formats

Convert your DVDs into any format: AVI, MKV, DVD, Ipad, Xbox, PS3, and more. The Converter is extra fast and even supports Nvidia Cuda video cards. Convert the main movie and the bonus too with multiple audio and subtitle tracks. A burning engine and live preview included.

Blu-ray Converter - Convert Blu-ray movies to any format

Convert your Blu-ray files to various formats. No need to be an expert, main movie or episodes are clearly displayed. Conversions are completed quickly and you benefit from an excellent quality result. Special Cuda profiles and advanced settings available for experts

PhotoDVD - Create DVD slideshow with music

Create an animated DVD slideshow from photos to watch on TV. Edit your pics, choose transitions and menu, add comments and music playlists! Watch your slideshow with the live preview and burn to DVD or publish to Youtube/Dailymotion.