企業的理想通訊工具 BigAnt 5 即時通訊軟體
BigAnt 是款類似於 Windows Live Messenger 和其他即時通訊應用程式的產品
BigAnt 的優勢在於它適用於幾乎所有的企業和組織,可讓使用者們在特定的網路環境下發送文件、音樂和影片等資訊。BigAnt 包含用戶端和伺服器端。伺服器端負責集中管理交流資訊並提供給用戶端各種服務。只需擁有伺服器的 IP 位址和網路的帳戶和密碼就可以了。BigAnt 用戶端可以提供如:文件、電話和視訊聊天、文件和資料夾傳輸,並有聊天記錄,截圖,離線消息等功能。如果您正需要這樣一款即時通訊工具來管理自己的企業的話,那就趕緊試試吧。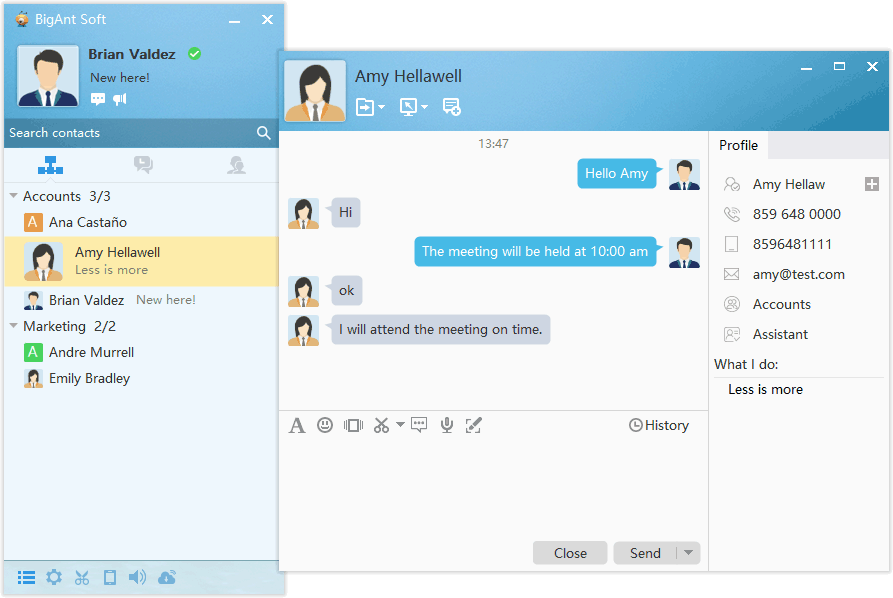 ---
BigAnt Messenger is C/S, client/server structured program
This program is administrator friendly, easy to configure and with powerful server console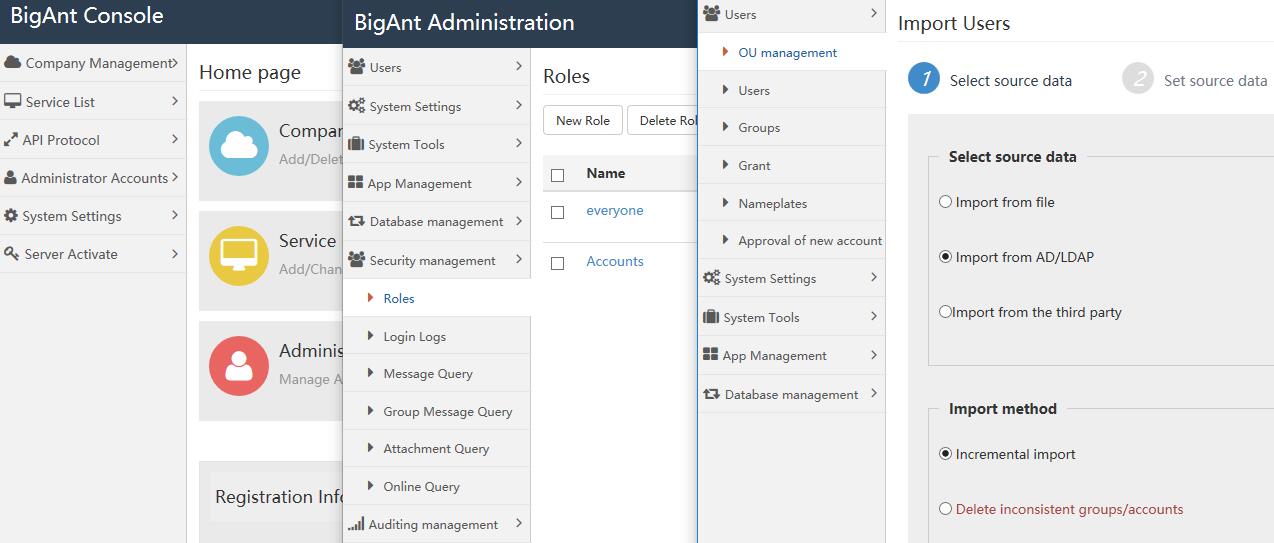 部署系統架構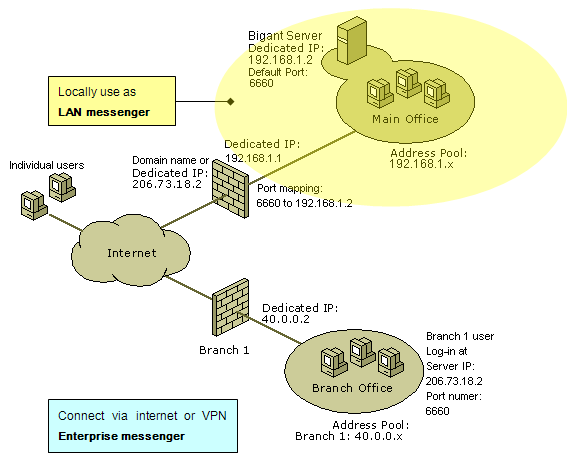 Advantages of using a central server:
Security and Privacy

The internal messenger server guards against viruses and other network security risks. This creates secure communication network for your group. You can even isolate your local network with internet, and still, not lost connection with colleagues.

Monitor all activity on the server

All IM communications between users are auditable and key word filtering, everything is under control. This protects corporate communications, be more security and stability.

Excellent file transfer capabilities

Extremely fast file transfer undertaken within centralized server. Send offline message, transfer files, folders to offline users come true. Take advantage of the high transfer speed.
BigAnt Client
With a neat look and familiar interface like MSN, there is no learning curve to use this BigAnt Office Messenger. All your clients will be connected to IM server that located in your company, regardless you have LAN connection only, or you are connected from internet or via VPN, and even more, your login account and password can be the same as they are in Active Directory/LDAP.

Send instant and offline message to contact(s) from anywhere, ticket your message was read or not yet. All messages will be logged on both client computer and IM server, you can search with query conditions and print your dialog in one click.

Start discussion among participants in real time, invite/remove members at any time. Group discussion can be arranged within Departments, multiple contacts or Users selected to create personalized discussion Groups. Also you can keep a record of group discussion and print it out.

With permissions, it will display remote computer's desktop on your screen in a few seconds. Remote session initiator can view or control partner's desktop to give instant assistance by using your own keyboard and mouse. This provides a productive way to assist your BigAnt contacts as long as you can see them on-line.

Also called BigAnt Bulletin Board, this is useful to notify to hold meetings, announce holiday breaks, send notices to all employees or send to selected groups/users. Users can reply and or discuss to the thread in real time.

With the leading edge VoIP technology, Video/voice chat via BigAnt messenger is clear and smooth. Voice and screen is nicely synchronized, and it takes only approx 5Kbs for the bandwidth usage, and you can switch video size between full screen video and video in a window.

File & folder transfer/forward

BigAnt Office Messenger offers easy and fast file transfer & forward, even a folder can be directly exchanged. Just drag and drop the file or folder onto the recipient's name. Or take advantage of BigAnt IM exclusive feature "Quick Send" to right click a file and send it from your browser.

Live Chat is a value-added feature of BigAnt Office Messenger. It can be easily integrated with your company web site, so that your website visitors could be chat with your service people in a chat window on your website, the operators can handle multiple conversations simultaneously.

BigAnt Document Management

BigAnt Document Management integrates with BigAnt Office Messenger, it is a creative function to let staff electronically stores, manages and share business documents in few clicks. This feature is only available for trial version and Professional version.
---
BigAnt Server
Create users in visible Organizational Structure, multilevel hierarchy of departments and divisions of employees. You can add/delete user groups or change user from one group to another one. And then, user will see same structured user list from BigAnt Office Messenger.

Administrator can specify who can talk to the CEO or supervisor, also you can control whether users are allowed to send file, start meeting, video chat, and assign access/modify permissions to company documents by using BigAnt Document Management, etc.

Active Directory/LDAP integration

Has dozens to hundreds of users? No worry, you can import users list from existing AD/LDAP within a few seconds; Import accounts by choosing Organizational Units (OU) or by Groups or by specified users. AD authentication is optional, and new added users will be synchronized in real time.

Message Logging & Archiving

Centralized stores history message and file transfer archives on a centralized IM server. Administrator can view/search/print/delete history message for record needs;

Configuration and Monitor

Start, stop, or restart instant messaging server. Administrator can configure settings on client side, send broadcast message, branding messenger client with company logo and name. Also you can get a clear view of all users presence status, keep a record of users login and log out information.

Rebrand BigAnt Office Messenger client program and use your company name on top of BigAnt client window, and your own logo in the biggest bottom banner, set default company avatar for users, all this can be done on IM server side, when users connect to the instant messaging server, the pictures will be automatically changed.
Features (Client and Server)

BigAnt Messenger features

Instant/Offline messaging

Alert for new incoming message or call

Voice chat and video chat

Enable Document Management

Send bulletin message and discussion

Active Directory/LDAP integration

Create Roles and assign permissions

Create Roles and assign permissions

View all users presence status

Specify company logo and name on IM client

Enable Document Management

Support LAN, VPN, WAN, internet connection

Host free live chat on your company website
Networking bandwidth:
This BigAnt messenger requires very low bandwidth for text chatting, and takes average 5Kb per user for video/voice chat, and more bandwidth required when file transferring, to save bandwidth, you can disable the video/voice chat and file transfer features for particular users, this is in the server console/user management/roles settings.
---
系統需求:
Windows 10/7/XP
Window Server 2012/2005/2003
500MB free disk space
512MB RAM or above